Video Reveals Prisoner Beating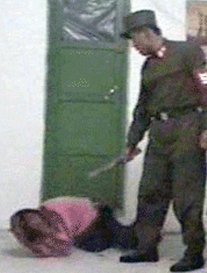 Guard beats female prisoner
On September 25, Free North Korea Broadcasting, a South Korean NGO, released footage of a female North Korean defector being beaten and kicked during interrogation on Aug. 17 at a guard post on the China-Korean border. The footage was widely reported by the media the next day, including newspapers and television broadcasters in Japan and South Korea.
Such graphic images of violence are appalling, but it is crucial for us never to forget that this is only one brief glimpse of the fate awaiting captured North Korean refugees.
Still images shown at this website:
The DailyNK       (English Language)
Still images and audio playback at this site:
The DailyNK       (Korean Language)
The events in the footage occurred while the 4th session of the six-party talks were in recess. The talks are focused on nuclear issues, but these images are a jarring reminder that awareness must not be allowed to waver from the issue of human rights in North Korea.
Other videos revealing human rights abuses in North Korea have been smuggled out in the past. In June 2000, Kang Kon (36), a former officer in the North Korean Army, defected from the North and settled in South Korea.
In February 2004 Kang passed along secretly filmed footage of life inside Yodok labor camp for political prisoners in North Korea. In early March 2005, North Korean agents abducted Kang from China's Yanbian Korean Autonomous Prefecture, according to reports, which also indicate that he is now incarcerated in a State Security jail in Pyongyang.
The North Korean authorities recently issued a public statement urging all humanitarian NGOs and UN groups stationed in North Korea to leave the country by the end of 2005.
The North Korean regime appears to be fortifying its system to prevent the outflow of domestic information as part of its strategy to exercise control over the people in that country. This suggests that the current egregious violations of human rights will continue.
Never forgetting that people in North Korea are suffering, we at LFNKR make one of our major rescue activities the supply of winter clothing for North Korean refugees hiding in China. This is carried out through a network of secret shelters. We are currently preparing for this winter's clothing needs, and you are invited to help support our "Supply Winter Clothing Campaign."
More details are available here.