US State Dept. Honors LFNKR's Kato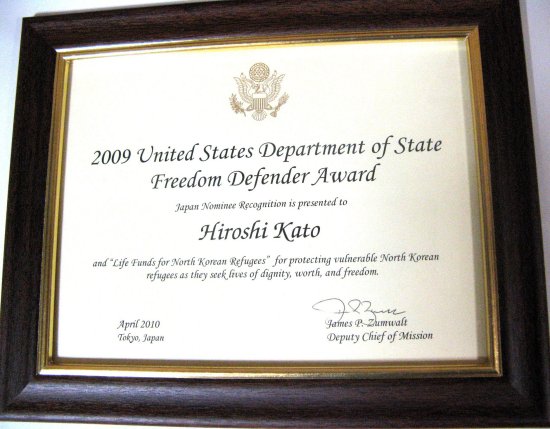 Exec. Director Kato Recognized
In recognition for years of effort on behalf of North Korean refugees hiding in China, the US State Department, on 26 April 2010, presented a special certificate to LFNKR Executive Director Kato Hiroshi in a ceremony at the US embassy in Tokyo.
The embassy's Deputy Chief of Mission James Zumwalt presented Hiroshi Kato, with the certificate to honor his nomination by the Embassy for the Department of State's 2009 Freedom Defender Award.
Instituted in 2006, this Department of State award pays tribute to non-U.S. individuals or non-governmental organizations (NGOs) who have faced great challenges and shown exceptional leadership and courage in advocating for human rights and democracy promotion in any country that has been named by Freedom House as less than fully free.
The Embassy recognized Hiroshi Kato for his many years of outstanding service to North Korean refugees in China. Through his courage and compassion, Hiroshi Kato has shown how a single individual and a small but dedicated NGO can make a crucial difference in the lives of vulnerable refugees. For this service, the United States is deeply grateful.
This award has encouraged all LFNKR members to continue our dedication to this work, and it has further inspired us in our mission to help North Koreans find freedom.
Click this link to read the post at the US Embassy site.