Update – 3 Ladies Who Defected
 Steady Progress in 3 Careers
Here are three young ladies whom LFNKR has helped resettle in Japan, and updates on their progress as they work toward establishing new careers.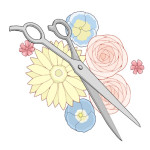 Ms. E has worked
a number of different jobs, and eventually she decided to become a beautician.  So, after she gained her Japanese high school diploma via correspondence, she took the entrance exam for a famous beautician's college in Tokyo, which of course she passed.  She tells us that she is looking forward to learning this new skill. She is confident that by becoming a beautician her expertise will enable her to help those who need encouragement and others who may need their spirits lifted through her skills.

Ms. K resettled
in Japan 3 years ago.  Since then, she has gained a high school diploma by Japanese correspondence course.  And now we are very pleased – and impressed – that she has passed her entrance exam for a well-known dental hygienist training school.  While working part-time during the day, she attends classes at the dental school each evening.
Ms. K.H., who is studying to become a nurse in Tokyo has successfully passed the exam that allows her to move up to third level at the nursing college.  She reports that her progress is steady as she continues preparing for the national nurse's exam next spring.