Tag Archives:
United Nations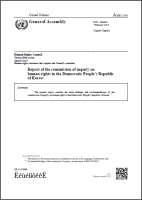 UN Lays Open NK Human Rights Abuses
On February 7, 2014 the United Nations released a 36-page report produced by its Commission of Inquiry based upon many hours of eye witness testimony detailing human rights abuses in North Korea. The report is titled "Report of the commission of inquiry on human rights in the Democratic People's Republic of Korea"
Ever since Takayuki Noguchi was arrested illegally by China in early December 2003, fears have mounted that he could be tried and sentenced to prison time, unlike previous aid workers who had been caught helping North Korean refugees, interrogated then released.
However, thanks to the intervention of Japan's Ministry of Foreign Affairs, Noguchi's mother and one of his aunts were allowed to visit him briefly in Nanning.