Tag Archives:
Human Rights in North Korea
to Hold Public Hearings in UK And US
Press Release
COMMISSION OF INQUIRY ON HUMAN RIGHTS IN THE DEMOCRATIC PEOPLE'S REPUBLIC OF KOREA
GENEVA, 17 October 2013 – The United Nations-mandated commission investigating the human rights situation in the Democratic People's Republic of Korea (DPRK) will begin next week a series of public hearings in the United Kingdom and the United States aimed at gathering information from witnesses on rights violations alleged to have occurred in the Asian nation.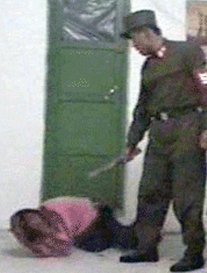 Guard beats female prisoner
On September 25, Free North Korea Broadcasting, a South Korean NGO, released footage of a female North Korean defector being beaten and kicked during interrogation on Aug. 17 at a guard post on the China-Korean border. The footage was widely reported by the media the next day, including newspapers and television broadcasters in Japan and South Korea.