Set a Goal and Tackle it for Best Results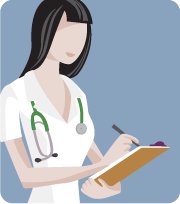 Here is an update from Miss K. H., the young North Korean defector who is now studying to become a nurse in Tokyo. Like Sumi's mother (in the previous post), this young lady also reported on her current activities at the recent LFNKR annual meeting.
It will soon be 2 years since I entered the nursing school in April 2013.  Time is flying by as I scramble to keep up with the heavy curriculum schedule, which includes the weekly exams, the events and all the practical training. 
During the past year, I gained Japanese citizenship and at last achieved my long-cherished dream of a Japanese passport, although I am very unlikely to get a vacation to travel abroad until I graduate from nursing school.
At school, I am studying both anatomical and pathological physiology in addition to nursing care.  Recently, we visited a few senior citizen homes to do practical training.
During the practical training, I was a little surprised to find so many diabetes patients.  My father suffered from genetic diabetes, so I may also end up with the same condition.  This has motivated me to specialize in the study of diabetes and to become a certified nurse.  Certified nurses must have high levels of nursing skill and knowledge and provide guidance to other nurses.  To become a certified nurse, we are required to work as a regular nurse for at least five years and then to complete the program for certified nurses, which takes about six months.  This means that it will take me about six years after I become a nurse, if everything goes smoothly.
I have not yet reached the first level – being a nurse – so it will take a long time before I become certified. If I set the goal and tackle it, however, I am sure I can reach the goal.  Thanks to everybody's support, I have been making steady progress in my study.  I will keep on working hard to get ready for the national exam.  I appreciate all of the kind support you and everyone has extended to me, and I thank you from the bottom of my heart.
Related articles:
NK Refugee Qualifies for Nursing School
Also, here is a brief glimpse into the lives of one NK family who made it to Japan and now run a successful pension.
Changed Life – Unchanged Heart