Seoul Exhibition
North Korean Holocaust
November 8-10, 2004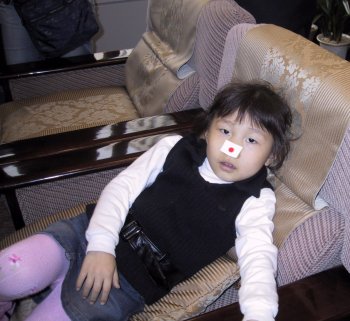 Pictures of little Han-mi were broadcast around the world two years ago when her family dashed into the Japanese consulate in Shenyang seeking refugee status. Han-mi stood crying while Chinese guards wrestled her mother to the ground, dragged them out and arrested them. Han-mi, now age four, accompanied LFNKR members when we visited South Korean Parliamentarians. In a pause between talks, she models a minature Japanese flag on her nose.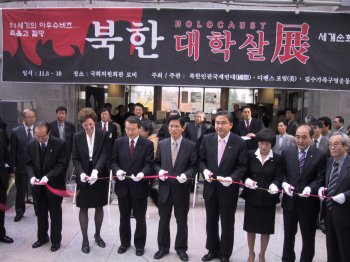 Ribbon cutting ceremony at the opening of the North Korean Holocaust Exhibition in Seoul, November 8, 2004.
Participants include former Korean Workers Party secretary Whang Jang-yop, Defense Forum Institute president Suzanne Scholte, Japanese Diet assemblyman Masaharu Nakagawa, and Korean Grand National Party representative Kim Moon-soo.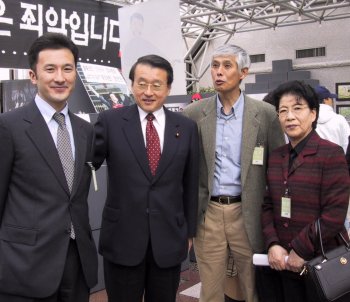 From left are Takayuki Noguchi, who spent 8 months in a Chinese prison for helping North Korean refugees, Japanese Diet member Masaharu Nakagawa, Hiroshi Kato, who was detained and interrogated in China for 7 days for supplying winter clothing and food to North Korean refugees in hiding. At right is a woman who miraculously survived 8 years in North Korea's harshest political prison camp. Both Noguchi and Kato are LFNKR members.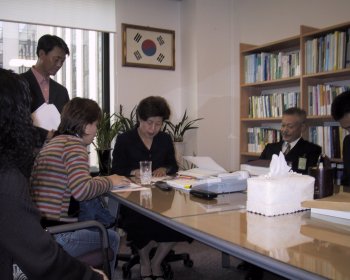 Korean Diet member Jeon Jae-hee signs petition requesting the immediate release of Choi Yong-hun, the South Korean aid worker now imprisoned in China. He was arrested in January 2003 for attempting to help dozens of North Koreans reach freedom. Chinese courts sentenced Choi to 5 years for his part in the escape attempt, called the Yantai boat people incident.
LFNKR, accompanied by Choi Yong-hun's wife, visited more than 60 South Korean lawmakers requesting assistance.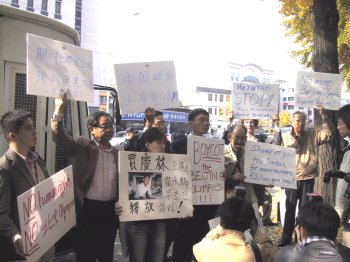 Just before noon on November 9, news was released that China had unexpectedly repatriated the 62 North Korean refugees.
The organizers of the North Korean Holocaust Exhibition, Moon Kuk-han, Suzanne Scholte and Sin-U Nam, called an emergency demonstration in front of the Chinese embassy in Seoul. Our group, LFNKR, joined the protest, which was covered by more than a dozen journalists from Asia and Europe.

All photos copyright © 2004
by LFNKR (Life Funds for North Korean Refugees)
All rights reserved worldwide.

---
---
---