Paper Cranes for Japan's Restoration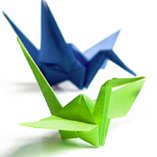 Empowering Our Youth
Ordinarily we don't mention specific charities or fund raising groups, but this initiative involving students is so unique and delightful that we decided you'd probably want to hear about it. The 100,000 Paper Cranes to Rebuild Japan project was brought to our attention by a friend in the US.
The activist group "Students Rebuild," in partnership with DoSomething.org, is giving students worldwide an opportunity to help the people of Japan by calling on students to fold and send to them 100,000 paper cranes as a statement of solidarity with students in the stricken area.
Adding muscle to this movement, the Bezos family has pledged to donate $2.00 for every origami paper crane sent in. This will mean as much as $200,000 will be donated for rebuilding in the wake of the devastation left by the magnitude 9 earthquake that struck Sendai, Japan on March 11th.
We feel that this is an excellent project because it helps strengthen the sense in young people that they have the power to do something proactive that will positively impact their world.
To find out how your children or students can participate, go to studentsrebuild.org/japan/ and get the details.