NK Refugees Get Japanese Language Training center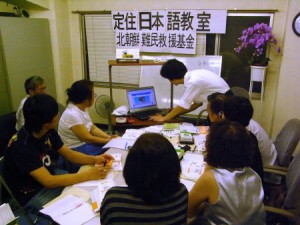 Life Funds for North Korean Refugees (LFNKR) on June 29, 2011, opened Japan's first Japanese Language Education Center for North Korean Immigrants. This has long been one of LFNKR's dreams.
The first class includes seven North Korean students, with ages ranging from 35 to 62, and averaging 48 years old. Directors of the Center include Kato Hiroshi, executive director of LFNKR, plus a second director, and Tomoharu Ebihara, executive director of ARNKA (Association for the Rescue of North Korea Abductees, Chiangmai), who was instrumental in establishment of the Center.
Our assistance includes help with legal procedures, finding places to live, lining up jobs, and procuring minimum necessary goods to start their new lives. One of the difficulties encountered by the NK settlers is learning the Japanese language. Some LFNKR members have been helping them learn the language, but we always felt that a professionally designed learning program, preferably subsidized by the government, was necessary.
Although the Japanese government has never revealed exact figures, it is widely agreed that more than 100 North Korean defectors have settled in Japan. The Japanese government, however, has provided no programs to support them as they attempt to settle in Japan. That is why, once they reach this country, our organization, LFNKR, has been helping the new arrivals.
We are pleased that LFNKR has been certified by the Japanese government's Cultural Affairs Agency (Cultural Affairs Department, International Division) and commissioned to establish and operate a Japanese language education program for North Korean people wishing to settle in Japan. Also, we have hired an excellent instructor who has extensive experience teaching the Japanese language in South Korea.
---
LFNKR considers the involvement of the Japanese government to be an important step forward for North Korean settlers in Japan, although the subsidy itself is not large.
The following is the LFNKR ad for recruiting North Korean refugee students:
Japanese Language Education Center for
North Korean Refugee Settlers
Recruitment of Students for First Session
(June 29 – September 19)

Since January 2011, when Life Funds for North Korean Refugees was legally recognized as a non-profit organization, providing Japanese language education for settlers has become an important part of our mission.

Our foundation has been commissioned by the Japanese government's Cultural Affairs Agency (Cultural Affairs Department, International Division), which has called for "The establishment and operation of Japanese language classrooms" for the purpose of transitioning "foreigners to residents."

Within the NGO community, there has long been concern over obstacles faced by North Korean refugee settlers in acquiring basic Japanese language skills (speaking, listening comprehension, reading, and writing) as well as learning the customs of Japanese society. With the start of this program, Japanese language education has finally become a central part of aid programs for settlers. Ours is the first systematic attempt to aid settlers through Japanese language education that is targeted toward North Korean refugees.

The Japanese Language Education Center will be affiliated with the nonprofit corporation LFNKR (Life Funds for North Korean Refugees).

Although the first course was originally scheduled for the first week of June, the start date has been postponed to June 29th. The number of students will be limited to 10 per course. The instructors are experienced specialists in Japanese language education. They are Japanese, Korean, and ethnic Korean Chinese. Each class will be 2 hours long, meeting 3 times a week. Each week, 2 classes will be devoted to language training, and one class will focus on practical settlement assistance. The entire course is planned for a total of 60 hours of instruction, 3 times a week (Monday, Wednesday, Friday 9:30-11:30). Tuition is free, but there is a course material fee of about 3,500 yen and students must provide their own transportation to and from the classroom.

To apply for this course contact Life Funds for North Korean Refugees: TEL/FAX 03-3815-8127