LFNKR Members Visit Golden Triangle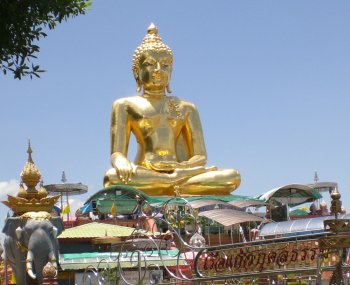 Summary Report  
As part of this organization's ongoing rescue research activities, we dispatched several of members to the Northern Thailand border area in early July 2010. This is the so-called "Golden Triangle" area encompassing parts of Laos, Myanmar and Northern Thailand. The area was once famed as a heroin production and trafficking route, but now it is very well known among North Korean refugees as the entryway to sanctuary in Thailand.
Following the 2008 Beijing Olympics, the Chinese government further tightened its already strict policy on North Korean refugees, seeking to halt the flood of defectors through China. This trend was especially conspicuous around March.
Currently, more than a dozen defectors wishing to resettle in Japan remain confined in Japanese diplomatic missions in China because they are still being denied permission to leave.  At least 5 defectors have been confined in the Shenyang Japanese consulate for more than a year and a half. The same is true for those defectors wishing to resettle in South Korea.
LFNKR has, in response to requests from relatives living in Japan, repeatedly urged the Japanese Ministry of Foreign Affairs (MOFA) to demand that China permit these people to leave.  Reportedly, however, the Chinese government is demanding from the Japanese MOFA a written pledge that no Japanese diplomatic mission in China will ever again accept or protect North Korean refugees.
Because of China's unyielding position, North Korean refugees wishing to resettle in Japan find it more effective to seek an escape route via Laos and Thailand.
Once North Korean refugees reach the Mekong River in Laos, all that remains is to cross over to Thailand.  The huge golden Buddha on the Thai side is the landmark showing that they have nearly reached safety.
Once they cross into Thailand, a mere 8 km downstream from the Buddha statue is the Chiang Sean police station, the official Thai acceptance point.  Chiang Saen is where the refugees are accepted and processed for eventual release and resettlement in third countries, including South Korea, the United States and Japan.
On 21 June 2010, the UN Human Rights Council (UNHRC) elected Sihasak Phuangketkeow of Thailand as its new president. Read more here.
According to estimates by Thai police, several tens of thousands of North Korean refugees are waiting in Yunnan, China.
LFNKR would like to commend Thailand for its open and helpful stance toward refugees, and its humanitarian record, the most open in Southeast Asia.
We encourage all NGOs related to human rights and refugee issues to encourage the Thai government to become further involved in resolving the North Korean refugees issue.