LFNKR in Joint Protest of NK Nuclear Blast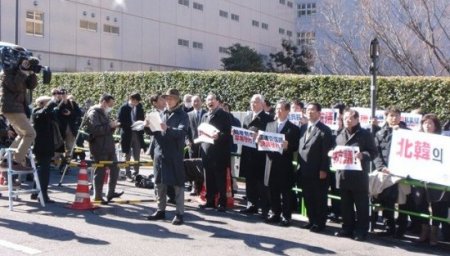 Joint Protest Held in Tokyo
North Korea conducted yet another nuclear test blast on Feb. 12. The North Korean regime is obviously escalating its clear threat to international peace and security. In response, on Feb. 13, LFNKR joined other Japanese NGOs that have an interest in North Korean human rights issues in public protests against the nuclear test. The protest was held in front of the Tokyo Headquarters of The General Association of Korean Residents in Japan. The General Association functions as North Korea's de facto embassy in Japan.
LFNKR strongly objects to these repeated provocations. Despite the serious shortage of food that is causing the starvation of so many of its people, the NK regime continues to step up its military-first politics. The money spent for the missile launch in December 2012 would feed all of North Korea's starving people for two full years.
The regime continues to spend extravagantly on the development of missiles and on nuclear tests.
There are plans now to prosecute this blatant crime against humanity before the International Criminal Court. And in preparation for this, a new UN commission of inquiry on the serious human rights violations committed by the North Korean government is expected to be adopted at the UN human rights council to be held in Geneva in March 2013.