Kato Answers Emails of Concern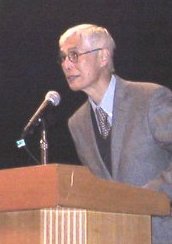 Since March 11, Japan has experienced an unprecedented series of catastrophic events. The emails pouring in to LFNKR from our friends both in Japan and abroad have been asking if we are safe, as well as offering encouragement and assistance. All of us at LFNKR deeply appreciate your concern and your kindness.
We are deeply shocked by the series of disasters that began with the largest earthquake in Japan's history and the huge tsunami. But the continuing crisis at the Fukushima nuclear power plant is a looming threat not only to the people of Japan but to those in many other countries as well.
I was working at our office in Tokyo when the first giant earthquake hit.  The tremors were so bad that I thought the entire building would collapse.  A few of the staff and I managed to hold the bookshelves, preventing them from falling over, and we secured a safe passage to the door to assure possible escape.
Fortunately, none of us working at the office was injured, although many books, files and cabinets were scattered around, which was far less damage than some other area experienced.
Again, we wish to thank you for your concern and your warm, encouraging words.
Our greatest worry now is the possibility that the leaking radioactive contamination could reach the Tokyo area.  As you have probably heard, the foreign embassies are taking measures to evacuate the citizens of their respective countries from Japan.  This fact adds to our concerns, considering that the Japanese government still seems to be underestimating the danger of a major release of contaminants. Available information on this subject is limited, so we just do not know what is really happening inside the power plant site.  No one here knows for sure what will happen next.
Although we at LFNKR are accustomed to giving aid and assistance, it may develop that we could need help instead. In that case, we humbly hope for your continued goodwill and your help if it should come to that.
Kato Hiroshi
Executive Director
Life Funds for North Korean Refugees