Kato Addresses Meiji University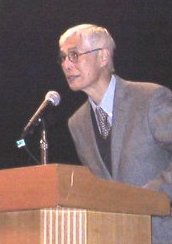 Seeking Solutions to the Problem
Mr. Hiroshi Kato, the secretary-general of LFNKR, and an expert on North Korean human rights issues, is often invited by leading Japanese universities to speak on this topic. Below is an outline of a recent lecture. It was presented at Meiji University on the 7th of November 2013. These lectures often inspire young people to join in our human rights activities.
Life Funds for North Korean Refugees – LFNKR
Tokyo-based Humanitarian and Human Rights Organization
Life Funds for North Korean Refugees is an independent, non-denominational, nonprofit organization founded in 1998 in Tokyo.
Our mission is to give humanitarian assistance to North Korean refugees living in hiding in China, to assist refugees from North Korea wishing to resettle in a third country, and to provide resettlement assistance to those wishing to live in Japan.
• Human Rights Award Recipient of Tokyo Bar Association 2008
• Nominated Freedom Defender Award by US State Department 2009
Current Human Rights Situation under Military Dictatorship
Key words: 'Military First' oriented politics and the 'Last Will' rule
"Only Nuclear and missile tests and their continued development guarantee state security and rule of the family monopoly"
Military oriented policy:
Military possesses privilege in the society.
Last Will Politics:
New leader Kim Jong Un, First Secretary of Korean Labor Party shall observe the last will of his father, Former General Secretary of Korean Labor Party of DPRK
Dictatorship is maintained under the balance of power between People's Military and Labor Party. Competitive relation
Military has their trading company and economic privileges for handling various resources of the state.
Current Human Rights Situation – North Korea (DPRK)
Food
Collapse of food distribution system and constraints on free markets limit citizens' ability to feed themselves……Denial of access to food
Government's military-first policy and aggressive military spending put a low priority on ordinary people having enough to eat
Criminalization of crossing the border curtails citizens' ability to travel to China to find food for survival.
Limits on people's mobility within North Korea severely diminish their ability to find food
Summary Execution
Executions are often carried out in public, in front of children as well as adults, after hasty "trials"
Among those executed are those whose "crime" was to cross the border in search of enough food to survive
Collective punishment is applied
Prison Camps
The DPRK operates a vast gulag in which over 200,000 people are imprisoned, including children.
Prisoners are worked as slaves and are subject to violence, rape and torture
Female prisoners who become pregnant have the fetuses forcibly aborted and are often killed
North Korean citizens can be sent to prison camps for criticizing the regime, for watching South Korean TV programs, or for crossing the border into China, among other infractions.
Freedom of Expression / the Press
These freedoms do not exist in DPRK. The only media outlets permitted to exist are those that are state sanctioned. These include:
• Korean Central News Agency,
• DPRK Radio & TV Broadcasting Station,
• Pyongyang Municipal Cable Broadcasting
• Rodong Sinmun (Labor Newspaper),
• Minju Joson (Democratic Korea)
• Chongnyon Jonwi (Youth Vanguard),
• Josoninmingun (Daily Korea People's Army)
North Korean citizens are punished harshly for expressing opinions considered unfavorable to the regime, or for failing to display the pictures of "Dear Leader" and "Great Leader"
Abduction of Foreign Nationals
The North Korean regime has forcibly abducted the citizens of more than a dozen countries including South Korea, Japan, Thailand, Malaysia, Singapore, Lebanon, Romania, France, Italy, Jordan, China and the Netherlands
Although the total number of foreign nationals abducted by North Korea is not known, the number of Koreans alone stands at over 85,000
There are systematic, widespread and grave Human Rights Violations in DPRK. Citizens have difficulty getting food and cannot avoid harsh punishment from false charge, conflicts, business difficulties.
Route of Exodus
DPRK- China
Cross Tumen River (to Japan Sea) or Amnokgang River (to Yellow Sea) into China.
Russian route – Vladivostok, Khabarovsk, Moscow
Mongolian route – Gobi desert Ulan Bator
China -Vietnam, Cambodia
China – Laos, Thailand
China – Myanmar, Thailand
Changes in number of North Korean Defectors
* Statistics from Korea Institute of National Unification
Refugees Reaching South Korea
Year
Persons
   Leaders & Their Policies
2001
583
   President Kim Dae-hyun
Sunshine Policy
2002
1,138
2003
1,281
   President Roh Moo-hyun
Commitment Policy
2004
1,897
2005
1,387
2006
1,587
2007
2,547
   Economy Reform Order
Open Market Policy
2008
2,809
   President Lee Myung-bak
Conservative Denomination
2009
2,929
2010
2,379
2011
2012
2,737
1,509
   Supreme Leader Kim Jong-un
First Secretary Kim Jong-un
President Park Geun-hye / ROK
Refugees Reaching Other Countries:
| | | | |
| --- | --- | --- | --- |
|          | Japan | 200 | |
| | US | 200 | |
| | Germany | 600 | |
| | England | 300 | |
| | Canada |   80 | |
The Establishment of the Commission of Inquiry (COI) in March 2013 by the Human Rights Council followed some important advocacy work in recent years by international human rights NGOs, as well as by the UN Special Rapporteur on Human rights in DPRK, Mr. Marzuki Darusman.
2004 Human Rights Council of UN appointed Mr. Vitit Muntarbhorn the Special Rapporteur on the DPRK human rights issue.
2009 Six times during his 2 terms, totaling 6 years, Mr. Vitit Muntarbhorn presented reports to the Human Rights Council and the UN General Assembly. All the resolutions were adopted. However the DPRK denied all allegations and rejected the resolutions as fabricated stories and a political plot.
The successor to Vitit Muntarbhorn, Mr Marzuki Darusman also twice presented reports to both the Human Rights Council and the General Assembly. The resolutions were adopted in both 2011 and 2012.
High Commissioner of Human Rights Council Navanethem "Navi" Pillay called for a full-fledged international Inquiry into serious crimes of DPRK.
Both the Human Rights Council and the General Assembly had previously adopted strong, unanimous resolutions condemning the Government of DPRK for systematic human rights abuses.
The High Commissioner said it was now time to take stronger action, and that a very significant first step could be made by setting up an independent international inquiry.
2013 March Commission of Inquiry Established
• Mr. Michael Donald Kirby (Australia)
• Ms. Sonja Biserko (Serbia)
• Mr. Marzuki Darusman ( Indonesia)
2013 Aug      Public Hearing in Seoul and Tokyo
2013 Sep       Update oral report to Human Rights Council
2013 Oct.      Update oral report to UN General Assembly
2014 Mar      Final Report to Human Rights Council
2014 Oct       Final Report to UN General Assembly
Rome Statute
In accordance with the Rome Statute, The ICC (International Criminal Court) only has jurisdiction over crimes against humanity if the state concerned is a signatory to the Rome Statute or if it issues a declaration accepting the ICC's jurisdiction (neither is currently the case for DPRK) or if the UN Security Council refers a situation to the ICC by way of a resolution adopted under Chapter VII.