Intern Gains Experience with LFNKR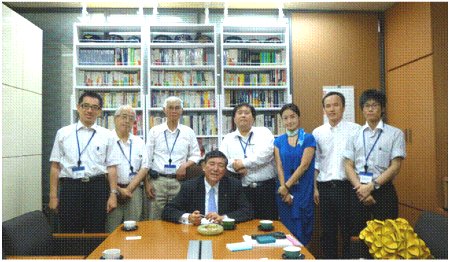 Report by LFNKR's Lobbying Intern
Becoming an intern with one phone call
My name is Yuzuru Sakaguchi, and I have been an intern with LFNKR since August 1st. I came to Tokyo from Nagano, and I am currently living on my own in the city. In the summer of my second year of high school I started studying the Korean Peninsula, because I was moved by a sense of wanting to see justice accomplished and that, "something must be done.…" I still vividly remember feeling appalled as I watched exclusive footage of North Korea on television, and even now that sense of wanting justice remains in my heart.
In college I studied diplomacy, and security, as well as the record of Henry Kissinger and others. But without practical application, every day was filled with inertia. Then, this year, an internship became a required part of my course work. So I called LFNKR, even though they were not recruiting, and they approved my internship.
Half curious, but with some prejudice, I dive into lobbying for ICNK
On the first day, when I asked what I would be doing, they said "lobbying." I felt partly curious, but also felt some prejudice as well. The lobbying was to petition for the adoption of the United Nation's Commission of Inquiry, as a member of ICNK (a coalition of international non-governmental organizations working to stop the "crimes against humanity" occurring in North Korea. On August 6th, we met with Keiji Furuya – a Liberal Democratic Party member of the House of Representatives. He told us about his aim to introduce the Commission of Inquiry as part of a Manifesto in the National Diet. When I heard him say this, I felt deeply the meaning and effectiveness of our efforts, and I was amazed at the power of lobbying.
On August 22nd, we met with Koji Tsuruoka-Director of the Foreign Policy Bureau of the Ministry of Foreign Affairs (Currently the Deputy Minister of Foreign Affairs)-and the highly respected Shigeru Ishiba-Chairman of the LDP Policy Research Council (Currently Chief Secretary). Mr. Tsuruoka, a career civil servant, spoke forthrightly with us and spent longer than our scheduled time. What deeply impressed me was when he said, "The work of ICNK is fundamentally what the Japanese government should do." Mr. Ishiba further said, "Where is the responsibility for the consequences of the North Korean problem?" He also stated that, "If we fail to successfully tackle this issue, it would mean that our defense fails."
I was inspired by our discussion of the big picture as it relates to human rights and security. As we exchanged business cards, I was so moved that my hands were shaking.
Later, we also met with the First Secretary of the French Embassy.
Based on these invaluable experiences, my former image of lobbying was turned upside down, so that I now see it as essential and rewarding.
Global Festival – Even one person can help many
My internship was supposed to end in August, but, by mutual agreement with the executive director, I recently participated as staff at the Global Festival in Hibiya Park. More people than I expected attended on that day, and I was amazed at the crowds of young people. I became deeply impressed me with the great power of youth as I managed the booth, which displayed information on North Korea and sold chijimi (Korean pancakes). People's attitude toward North Korea, including my own, ranged from interest to disgust, but it forced me to think about how we can increase awareness of North Korean refugees, and gain a greater understanding of their country.
In college I viewed North Korea from the perspective of political science, which included such areas as diplomacy, domestic affairs and security. But when viewing the country in terms of human rights, I realize that the universal issue boils down to a fundamental issue. The smiling faces of the refugee families I met left an indelible impression on me.
On the web and other places, one frequently sees criticism of North Korea. But the human rights issue, regardless of creed, is an issue of mankind, which, like the nuclear question, is a core issue. On that matter, which draws harsh criticism, this organization (LFNKR) is a pioneer NGO. Even though I am only one person, I hope to help as many people as I can in the future by always remembering what is necessary and what should be done.
I would like to express my gratitude to the many people who have helped me, including the executive director of ICNK and all the many others. Thank you from the bottom of my heart.
Yuzuru Sakaguchi
~ Majoring in East Asian International Politics
~ Hosei University Law Department, International Politics Division
 The photo above shows Japanese members of ICNK (International Coalition to Stop Crimes against Humanity in North Korea). Click to read ICNK's coalition statement.