Help Us Keep Our Orphans Warm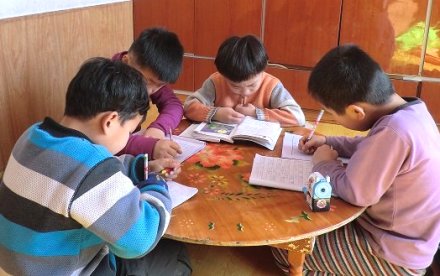 Because Donations Have Fallen Off …
One important part of our assistance efforts is the orphanages we support. Winter is upon us now, and the six-month cold season in that region always means heavier expenses.
Some of that increase goes for warm winter clothes, of course, but the bulk is needed for coal to heat the buildings where our orphans live.
To properly heat the facilities all winter, it will take somewhere around $6,000 US dollars. In some ways that doesn't seem like much money. But to our orphans it's the difference between freezing to death or not.
Click to visit our Donate page
About These Orphans
First, a quick bit of background: Over the past decade or so many North Korean women have escaped their country into China, only to fall into the hands of human traffickers again. Often such a woman is bought by a family as a "wife" for a son who is physically or mentally incompetent and cannot otherwise obtain a wife.
These refugee women, however, often do not live stable lives. Many are discovered by the authorities and repatriated to North Korea. Others may be re-victimized by human traffickers, being abducted and sold yet again. Still others simply run away, leaving behind their children and "family" ties.
This leaves many children alone, with nowhere to go but the streets.
A Couple of Typical Cases.
Orphan 1:
K.U. – Boy, age 10
Mother was repatriated when K.U. was one year old
Father died of liver disease Jan. 2013
Orphan 2:
S.N. – Girl, age 9
Mother was repatriated when S.N. was very young
Father disappeared two years ago
Orphan 3:
Y.J. – Boy, age 8
When mother escaped from North Korea, she was already pregnant.
Mother suffered from malnutrition (probably related to the widespread starvation in NK), so Y.J. was born underweight, and may be mentally slow.
Click to visit our Donate page