Former Foster Child in LFNKR Shelter Now a Mom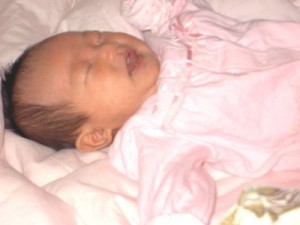 LFNKR's "Grand Daughter"
It's fun when we get to report good news. Last month, a baby girl, named Soe-hee, was born to one of LFNKR's former North Korean orphans who attended our education sponsorship program after escaping from North Korea into China. Baby Soe-hee was born in April 2008.
The baby's mother, Yong Ae, met her future husband, also a North Korean refugee, at the Hanawon facility, where they received training in daily living skills for resettlement in South Korea.
We expect that baby Soe-hee will enjoy the warmth of this new family in a country of freedom and never experience the fear of repatriation. Here are photos of the baby taken during Kato's recent visit to hand her parents the congratulations gift money from LFNKR members.
Read a brief bio of Yong Ae, the mother, by clicking here: