Follow-up Visit with Orphans Held Last Year in Laos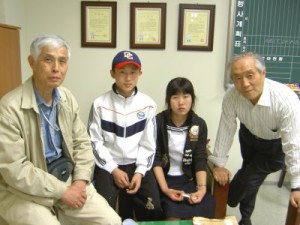 World Outcry Freed Them from Custody in Laos
Last year 3 North Korean orphans fleeing China were being held in a jail in Vientiane, Laos. When Kato Hiroshi visited them last year, the boy was sick from the stress of being in jail. At that time, Kato encouraged the three, a boy and two girls, telling them "Don't worry, I promise to get you out of here soon."
Here are the Choi children, one year later, with Kato Hiroshi and Kim Sang-hun, a South Korean humanitarian aid worker.
That April, LFNKR started an international campaign to help the children. Thanks to the powerful response of international society, the children were released soon after.
Read the original story here.
The 3 North Korean orphans have now all settled in South Korea. Recently, Kato had the opportunity to meet again with two of them, Choi Hyang and Choi Hyok, who are sister and brother.
Hyang and Hyok now attend a school located not far from Seoul. Hyang and Hyok said they are very happy in their current life.
The sister, Hyang, is studying to become a therapist, while her brother, Hyok, is currently interested in films and wishes to become a film editor.
.