Flying Snack Cakes for Freedom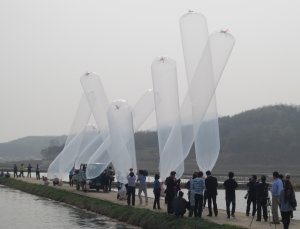 LFNKR, working jointly with several South Korean NGOs, launched last month 20 large balloons into the skies above North Korea to carry 100 kilograms (220 pounds) of Choco Pies, along with a total of 3,000 leaflets. The site chosen for launching the balloons was Ganghwa Island, a site very close to NK. The island is located in the estuary of the Han River, on the west coast of South Korea.
Balloons Launched April 24
 The Choco Pies are a South Korean-made snack with marshmallow filling and chocolate covering, and they are hugely popular among the North Koreans who are lucky enough to acquire them.
The LFNKR message written on the leaflets read:
"The single "Unha-3" missile which was recently launched, only to fall into the sea, cost the North Korean people 3,500 billion won. This much money could have easily fed 19 million people in North Korea for at least one year, or it could have relieved the food shortage for 2 full years, not to mention how many Choco Pies the money could have bought. Give the starving people food, not missiles!

Life Funds for North Korean Refugees
(LFNKR) based in Tokyo, Japan
LFNKR wishes to thank you, our readers, for all your generous donations. You helped send Choco Pies and a message of caring and support to the people of North Korea.
Click here to read the earlier (January 29) story.