Ebook – NK Prison Camp Eye Witness Accounts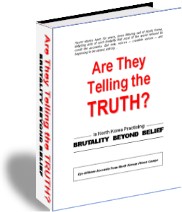 Interviews with Survivors, Former Guards
The world was shocked on February first 2004, when BBC ran an hour-long feature clearly documenting North Korea's biological experimentation on political prisoners in the highly secretive camps. Such stories are not new, however.
For more than ten years, a group of human rights activists have been working with newly-defected North Koreans, interviewing and collecting stories. Stories that "normal people" in the civilized world could scarcely believe.
Over 100 experiences, related by 5 different survivors of the prison camps, are now available in this e-Book (an electronic book that can be read on any computer).
4 Typical Examples from the e-Book

Download it Here
Please note: this e-Book is a very large (16-Mbyte) PDF file because of the line drawing illustrations included with the accounts.

To open the e-Book on your computer, you will need the Adobe Acrobat Reader. If you need the latest version, you can get it here.

This PDF eBook is compatible with both PCs and MACs.
If You Would Like to Donate  
This e-Book is free. However, we hope that you will want to donate something to help us with the ongoing expenses of aiding North Korean refugees in their struggle for freedom.
Below is a link to PayPal, a trusted worldwide payment network through which your funds can be safely transferred to us in the most secure way. For every five US dollars you donate, one refugee hiding in China can eat for another few weeks.
Safely donate by Paypal
Even a $10 or $20 donation will 
help a North Korean refugee
Read how your donations are used.
Every $5 You Donate*

 

will purchase 10 kilograms (22 pounds) of rice and enable one refugee to eat for another three weeks.
Every $20 You Donate…

 

will provide an emergency medical kit for a family of North Korean refugees.Only your heart can decide how much impact you will have on these lives.
And Every $100 You Donate…

 

will buy five sets of warm clothing to keep five NK refugees warm through China's bitterly cold winter months. Some of the refugees are children, and a more generous donation will provide warmth for more of them.
Our NGO has developed its own local networks, through which we distribute food and clothing to North Korean refugees. We are also working for international recognition of their rights as refugees.To make a donation, simply click on the appropriate button and fill in the information requested. You will receive an email receipt verifying your donation within a few minutes.

 

---

*

  

Since

LFNKR

is a legally authorized non-profit organization in Japan, your donation may qualify as a

tax deductible

expense under your country's tax laws (be sure to consult your own tax advisor for more specific information).


Donate $5

Donate $10

Donate $20

Donate $50

Donate $100

Donate $250

Donate $500

Donate $1000