Classes Teach NK Refugees Language, Social Skills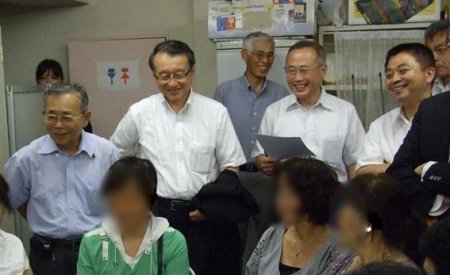 1. How the Course Came About
Currently, 200 North Korean refugees have settled in Japan, and this number continues to grow steadily. To help refugees merge more easily into Japanese society, it is essential to establish and promote various forms of aid, the most crucial being Japanese language training. Despite the need, this country's government has, so far, developed no plan to aid North Korean refugees in their settlement. Consequently, such aid has only been provided on a small scale, and left solely to the initiative of private volunteer groups or the self-help efforts of the refugees themselves.
Japanese language skills are extremely important to facilitating the settlement of refugees. Previously, no opportunity has been provided for systematic study, with the only alternative for many of the refugees being night classes in middle school, classes that are primarily geared for native Japanese. Over and above the Japanese language, there is also a complete lack of opportunity to learn about basic social norms and customs, which are important for settling and living in Japanese society.
On those points, the Japanese government has been considerably more welcoming to Indochinese refugees and Japanese orphans who had been left behind in China.
However, at this time, the government's Cultural Affairs Agency has accepted LFNKR's Japanese language course as part of the government's Japanese language education project for the purpose of turning "foreigners into residents." This should be widely hailed as a breakthrough in government policies toward North Korean refugees.
2. Review of Implementation
Unfortunately, only part of the budget from LFNKR's initial application was approved. Consequently, the time period for the Japanese language course was limited to 60 days, over 2 terms, for a total of 120 days.
The first term began on June 29 (Wednesday) and ended on September 12 (Monday). The second term began on October 14 (Friday) and is scheduled to end on December 19 (Monday).
For term 1, two professional Japanese language instructors were hired for a total of 18 students enrolled. Class times were set, based upon the schedules of students and instructors, to run from 7 to 9 pm. The classroom was made available by the "Japanese Spouse Support Group," (an organization helping foreign nationals married to Japanese). Because of this connection, as well as our original purpose of establishing a Japanese language classroom, we decided not to limit enrollment only to North Korean refugees as originally planned. It was decided that the participation of other foreign residents desiring Japanese language instruction would be welcome. The above framework will basically apply unchanged for term 2.
On August 24 (Wednesday), there was an inspection by a group of six members of the National Legislature. They are members of the ruling Democratic Party, including Nakagawa Masaharu of the House of Representatives and Baek Jinhoon of the House of Councilors. Based on the strong response from students wanting to register, we are optimistic about expanding this course in the future.
3. Impressions from Attending the Course
As mentioned above, 18 students (7 men and 11 women) enrolled. Their ages ranged from 16 to 60, with a wide mix of experience in Japanese study, in plans for the future, and in Japanese language ability. It would be easy to expect difficulties when that wide a range of students are thrown together into one class to learn Japanese.
Overall, however, the atmosphere was surprisingly harmonious. Fortunately, the number of students who attended any given class seemed to make up an appropriate class size.
Another unexpected surprise should also be mentioned. A number of North Korean refugees who are already fluent in Japanese occasionally visited the class. They were not there for learning Japanese, but rather for a bit of variety in their everyday life and to meet and get to know other refugees.
As for term 2, there will be a special supplemental class aimed at students who are in the intermediate to advanced level of Japanese conversation, but who lack Japanese writing skills. This was adopted in response to our assessment of term 1.
Furthermore, as term 1 concluded, three enrolled students were expecting internships and two others were expecting jobs. If we are to respond to these demands, a broader base of workplace opportunities must be developed.
 By Keigo Tabira,
     Life Funds for North Korean Refugees: Affiliated
Japanese Language Education Center Director