Cherry-Blossom Viewing Party in Tokyo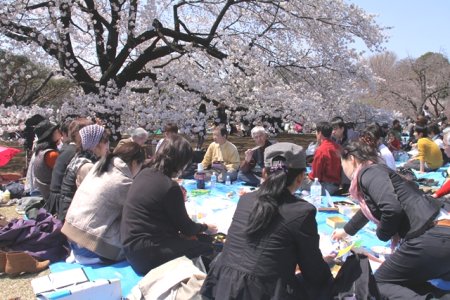 Cherry-Blossom Party with NK Defectors
On April 8, under a flawless blue sky, LFNKR members gathered at Shinjuku Park, one of the famous cherry-blossom viewing spots in Tokyo, to enjoy an "Ohanami" party under hundreds of cherry trees, all in full bloom. The Ohanami is a Japanese tradition for enjoying the beauty of cherry blossoms. Joining the party were many North Korean defectors whom LFNKR has helped and supported in their resettlement in Japan.
The party lasted from 10 am to 3 pm, and we had a great time talking and getting to know each other better.
The mother of Mr. H was only one year old when her ethnic Korean parents and two other family members (five in all) moved from Japan to North Korea. Now back in Japan after all these years, she has recently opened a restaurant and is steadily building a successful business.
Another person at the party, Mr. Y, who helped prepare the lunch boxes, was a professional athlete in North Korea. Mr. Y, currently holding a part-time job, is working very hard to help members of his family still living in North Korea. He told me that one of his greatest difficulties is improving his Japanese language skills.
Back in 1998, I started to see news on TV about the distressing circumstances in North Korea. This led me to read books on the plight of the North Korean people. Although I felt very sorry for them, I seemed there was little I could do to actually help them.
And now, thirteen years later, I am starting to feel that I can actually do something. So, a first step, I joined LFNKR and started to make regular donations, wishing to make a difference in their circumstances.
After talking with several North Korean defectors at the Ohanami party, I found that almost all the people at the party were warm hearted and hard workers. I was especially inspired by some of the defectors now studying to enter Japanese university.
Studying has always seemed like torture to me, so I really admire their efforts to keep on studying hard and make their dreams come true in Japan.
I am really glad that I went to the party. It definitely gave me a chance to make friends with more North Korean defectors, and has encouraged me to get even more involved in activities to help them via LFNKR.
 By LFNKR Member, T. Yamada