Category Archives:
Relief Work
Human Trafficking and Starvation
Recently an LFNKR staff member visited some of the shelters in China being run clandestinely by this NGO. The following interview with a few local staffers working at one of the shelters brings us information about the recent food situation in North Korea and the victims of human trafficking.
In the interview, "LFNKR" indicates one of our people dispatched from Japan who interviewed "Local staffers," who are the people actually caring for North Korean refugees and orphans living in our shelters in China.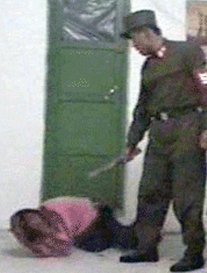 Guard beats female prisoner
On September 25, Free North Korea Broadcasting, a South Korean NGO, released footage of a female North Korean defector being beaten and kicked during interrogation on Aug. 17 at a guard post on the China-Korean border. The footage was widely reported by the media the next day, including newspapers and television broadcasters in Japan and South Korea.