Monthly Archives:
June 2016
By K.K. (a former North Korean refugee)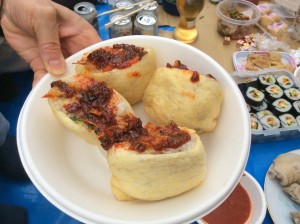 Back in April, LFNKR had a cherry blossom viewing party.  At this party were members of LFNKR and also some of the former North Korean defectors who have resettled here in Japan.  The following is a brief article we received from one of the North Korean participants.  It was she who prepared and brought the unique spicy North Korean "inari-sushi" (fried bean-curd stuffed with boiled rice).
She writes:
I was born in North Korea, and I was able to come to Japan, thanks to Japanese humanitarian aid. At that time I knew absolutely nothing about the cultures or traditions of any other country. 
Near the end of March this year, we at LFNKR got some exciting news. Miss K.H., whom  we have mentioned here before (see links below), had just passed Japan's very difficult National Nursing Exam, and she was writing to tell us of her experiences:
She says:
Thanks to the support and help that the people around me have extended, I passed the National Nursing Examination!