Monthly Archives:
April 2013
Warning: Extremely Graphic Scenes of Violence
YouTube footage showing scenes from the book about Chongo-ri Kyo Hwa So (NK Death Camp) can be viewed at:  www.youtube.com/watch?v=vasmLxi_2Ew The eight-and-a-half minute, un-narrated video shows scenes of such brutality that only those with strong stomachs should watch what is being done to North Koreans every day.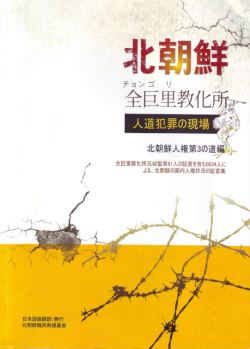 Many Stories of Wanton Cruelty
Last month, LFNKR published the Japanese-language version of the book 'Chongo-ri Kyo Hwa So' for release in Japan. This book contains facts, information and stories from interviews with 8,934 North Korean defectors, including 81 who had been detained at Chongo-ri Kyo Hwa So, more commonly known as the "Death Camp".  Many of the stories include horrifying colored sketches drawn by a few of the former detainees at the Death Camp.