Monthly Archives:
March 2013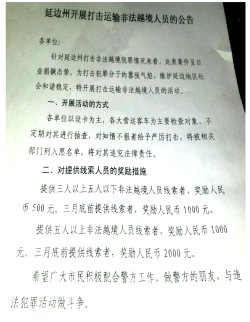 Will Pay up to 2,000 Yuan per 5 Captured
NKFC (North Korea Freedom Coalition) members, including LFNKR, have recently received information about the on-going crackdown by Chinese authorities. See a PDF copy of the Chinese language document, along with English and Korean translations.Chinese authorities recently released a police order along the NK-China border which sets specific prices for any criminal escapees (North Korean refugees) trying to get away from the starvation and madness so rampant in their own country.
First Language Skills, Now Nursing
This 29-year-old North Korean young lady only reached Japan four years ago. She immediately began attending night classes at a local junior high, and then moved on to high school, while also working part-time jobs to support herself.