Monthly Archives:
October 2011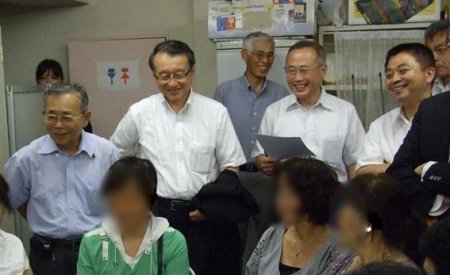 1. How the Course Came About
Currently, 200 North Korean refugees have settled in Japan, and this number continues to grow steadily. To help refugees merge more easily into Japanese society, it is essential to establish and promote various forms of aid, the most crucial being Japanese language training. Despite the need, this country's government has, so far, developed no plan to aid North Korean refugees in their settlement. Consequently, such aid has only been provided on a small scale, and left solely to the initiative of private volunteer groups or the self-help efforts of the refugees themselves.
Korean Food Booth
Global Festival Japan was held at Tokyo's Hibiya Park on Oct. 1st and 2nd, 2011. Festival sponsors included a number of Japanese government organizations, The Japan Newspaper Publishers & Editors Association, and The National Association of Commercial Broadcasters in Japan. Every year, more than 200 groups involved in a variety of issues join the Festival. Typically, these groups deal with human rights matters, child labor abuse, and poverty problems.