Monthly Archives:
October 2009
Chiang Saen, Thailand
Mr. Tomoharu Ebihara and an LFNKR staff member visited the Chiang Saen Police Station in northern Thailand to donate non-prescription medicines, blankets, and other items for North Korean refugees being detained there. Mr. Ebihara works at Thailand-Japan center, Payap University in Chiang Mai and also heads The Association for the Rescue of North Korea Abductees, Chiangmai (ARNKA).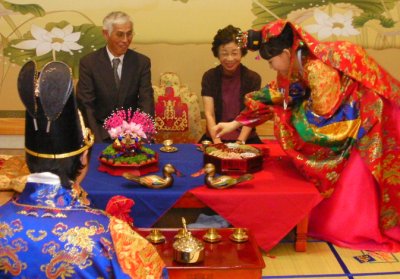 Mr. Kato and Ms. Watanabe stand in as parents for the bride and groom, both of whom are former North Korean refugees. 
_____________________________
It has been ten years since LFNKR (Life Funds for North Korean Refugees) staff members working in China found 10 North Korean orphans who had fled to China to escape the starvation. These first children were the stimulus that prompted LFNKR to begin an education sponsorship program that would enable us to protect them and provide them with an education.