Monthly Archives:
February 2007
Made Possible by 300,000 Yen in Donations
The operation to distribute emergency supplies in Hamgyong-bukto, North Korea was a success. Through one of our clandestine local networks, we were able to provide extremely needy people with a total of one ton of rice, as well as clothing and antibiotics. The value of all items supplied equaled 300,000 yen (about US$2,500). The extra supplies were financed by recent donations. Late November of last year, five members of LFNKR's local group JYO entered Hoeryong-si, North Korea from China, carrying several boxes filled with winter clothing, antibiotics and penicillin.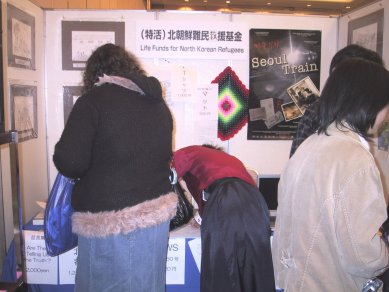 LFNKR's Booth at One World Festival
More than 100 NGOs and NPOs in Japan joined the One World Festival held for two days at Osaka International Communications Center (Feb. 3rd and 4th). Many groups participated in the event under the theme "Bringing the world closer through education, interaction and mutual assistance." The groups are working to help resolve today's global issues of environmental destruction, poverty, repression of human rights, ethnic conflict, and refugees. Approximately 12,600 guests visited the exhibition during the 2-day event.