3 Orphans Plead for Help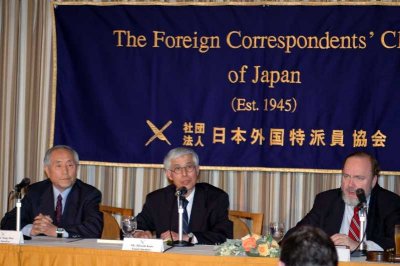 Kato Hiroshi (center), Secretary General of LFNKR, addresses journalists at the Foreign Correspondents' Club in
Tokyo on April 12, discussing the 3 North Korean orphans being held by Laos authorities.
Read Their Letters Below
The following letters were written by three desperate North Korean children who are now in the Vientiane Jail, Laos. They are very aware of the risk of repatriation back to North Korea.

The letters show their anger and confusion over the situation but at the same time, reveal how desperate they are with their appeal for help.




Letter from Choi Hyok, a 12 year old boy
Dear Uncle, How are you? North Korea knows about us. North Koreans came to us for questioning and they made reports about us as they wished and took away all the reports with them. If you don't help us, we will kill ourselves because we don't want to go to North Korea. Because, if we go to North Korea, we will be imprisoned for the rest of our lives…Please rescue us. If you rescue us, I will repay it later. Really, really, I want to be free. Please help us. I pray for freedom, to Lord. I want to be free to study, freedom, freedom, freedom

In the evening, 6 April, 07
From Choi Hyok


Letter from Choi Hyang-mi, a 18 year old girl
I love my two brothers so much that I do not want to be alive without my brothers. I am not teasing you, Uncle. You are not threatening us to death. If I am sent back to North Korea, I really don't want to stay alive, I just don't care about my mother, brothers and even God if I am sent to North Korea. I am so resentful now to be in danger simply because we do not have $1,000. It is not even $2,000, it is only $1,000 that was needed to be added and why don't you find us more precious than money? I don't want to go to America any more. We will go anywhere if it is not North Korea and prison. You will not take care of us even if we go to America. Yesterday, when North Koreans asked us questions and threatened us, we told them that we will never go to North Korea and consistently lied that we were South Koreans. Don't worry about money and we will pay it back whatever amount you may need to save us. Don't count the number and please save human life! They can take our dead bodies to North Korea but not us alive. I mean it! We are now so desperate that we are violent to do anything.

7 April 2007
Choi Hyang-mi

Letter from Choi Hyang, 13 year old girl
Dear Unccle, How are you? I am Choi Hyang. We are in a great danger right now because of that money, $2,000. We do not want to be known publicly but now we do not mind becoming public and not only that we are even prepared to go to hell only if we are not to be sent to North Korea. But I think making our situation public is now too late. Of course, you do not owe us but is the $ 2,000 that important to allow life to fall to death? Maybe, $2,000 will make your life very comfortable for sometime. But we are dying because of that $2,000. On 6 April, people came from the North Korean Embassy. They almost threatened us, swored and shouted at us and said something of the kind consideration of the party and etc… I do not need protection of such a great party. I mean that I will kill myself if we are taken to North Korea. I will die.

Dear Uncle, we are all Christians and children of God as you are. Are you dropping us from the column of Christians to hell because of that $2,000?. Don't you want to know how strong it was on 5 April? I am not going to tell you how strong it was because that is not the issue. What is important is the struggle between life and death. Uncle, I am sorry to say that you did not rescue us in the beginning and I do not think you would help us either this time. Nevertheless, I am writing this letter in the last chance of a drowning person who will catch at a straw. Dear Uncle, the North Korean embassy interrogated us and took all the information about us back with them on 6 April. Please give us freedom. Is that anything wrong to give us freedom? We are unfortunate children who came all the way here in search of freedom and are at risk of losing their lives for freedom. If any person could give us the freedom, I will remain grateful for the rest of my life. Please. We can accept anything except going to North Korea. I swear in the name of Jesus Christ that if any one should save us now, I will pay back much greater amount of money and love. God knows and I will never forgive those who lead us to death.

7 April 2007
Choi Hyang from a prison in Laos
Recent news articles featuring the jailed orphans
Washington Post: April 11, 2007
From N. Korea to a Laos Jail Cell
Rights Groups Work for Release of 3 Young Refugees


Japan Times: April 9, 2007
Laos to free N. Korean kids if Japan NGO pays money


The Scotsman: April 13, 2007
Laos police demand £500 a head to save refugee children from death


---
---