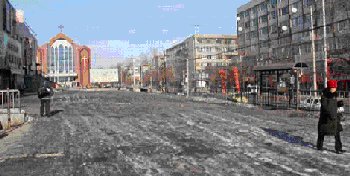 2006 - Winter street in Yanji, China
The Tumen River running along the border was completely frozen. Standing on the riverside on the China side we could see Namyang, North Hamgyong on the other side, in North Korea. There were lookout posts about every 100 meters. Clearly, the crackdown on North Koreans attempting to escape into China has been stepped up even further.
In the year 2005, about 120 North Koreans carrying pass permits crossed the border bridge into Yanbian, China every day to visit their relatives or to travel. Many of them are seeking food. In the winter of 2005, one church in this area attracted sometimes as many as ten begging North Koreans. Church members here were deeply distressed because their church would be forcibly shut down by the Chinese police if the church were discovered extending protection to the refugees.
In January 2006, a North Korean escapee with two children risked her life to reach one of LFNKR's shelters. They had been extremely lucky to slip through all the newly installed detection systems around the border area. The system is designed to detect signals from cellular phones, without which it is almost impossible to safely cross the border.
Up-to-date news on the food situation in North Korea
LFNKR still receives stories about starvation like those heard back in 1996 to 1997. In one case, steamed bread was reportedly stuffed with human flesh. In another case, parents exchanged children with another family to eat them. According to the North Korean refugees we interviewed, the rationing has been resumed in North Korea after 7 years, and they told us they began receiving rations on October 10, 2005. What they received that day, however, was only about three ears of corn and some potatoes. Those people who cannot afford to buy food at markets have no choice but to wait for a bit of corn each day.
Trafficked women and abandoned children
It is now widely known that most female North Korean escapees have to depend on trafficking brokers to get into China. Obviously, there is an established system whereby the brokers bribe Chinese police to secure safe passage into China. The majority of the sold North Korean women quickly become pregnant and have babies. Sadly, many of these babies are abandoned. The LFNKR member brought back several reports from one of our shelters. The following two cases are typical. Both of these victims are North Korean mothers who were ensnared by human traffickers. Be sure to read the Interview Relating to this Report.
1. The case of the mother of 5-year-old Chan Wong-hee